So you may have noticed that I am going for a minimalistic look on the sidebar of the blog. Basically I'm trying to organize everything into tabs under the header so there's less clutter. As a mom of two under three, I
hate
clutter. Step one has been to remove the list of Blogs I Love (not permanently!). I'm working on getting most of that stuff in a tab at the top where you can find great blogs to read and follow. But until I get the time, I wanted to share a few great blogs for people to read until I get my friends tab going. Let's just celebrate some great blogs this way until then: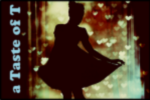 A Taste of T
This blog is hilarious. She really tells it like it is without censoring herself and makes me laugh pretty much every time I pop over. She's expecting her first baby so there's some of that in there, too. This is the blog where I am going to be doing a guest blogging spot soon, and so is...
Tammy, a dear family friend and aspiring runner. Her journey to achieve her personal goals is so honest and funny. She's going to be writing for A Taste of T, too! I introduced them to each other because they're pretty much the same person...hilarious. (Tammy, I need your button!)
Live Every Moment
A great site for photography-lovers, amateur and professionals alike. She does a weekly photo challenge that I'm going to participate in; the submissions go in on Fridays, so you'll be seeing a lot more of this little button. Probably later today!

At First Blush
My dear friend Dawn, mommy and esthetician extraordinaire, just started a new blog about beauty, style, products...you know, things I know nothing about! Good thing I have her around to help me (she did my makeup for my wedding) or I don't know how I would look today--or how I would have escaped middle school relatively unscathed. I just copied everything she did! Go check it out and pick her brain!
So there are some great places to go visit on your lunchbreak or when the kids are down for a nap. I will try to get my friends tab up soon--I need a good title that goes along with the whole "Rub Some Dirt On It" theme. Dirty Friends just doesn't sound right...any ideas?
Happy Friday!